I NEED to add roasted veggies to my salads more often. This was SO delicious. First of all, any deeply roasted veggie is my best friend. And then added to a salad?! My new favorite thing. I'm one of those weirdos that loves salads and craves veggies more than anything. It's true. The combo of flavors in here is insane. #nosadsalads.



I'm the queen of texture. I'm sure you all know that by now. This salad exemplifies that need perfectly. Charred, golden roasted cauliflower, toasty walnuts, chewy tart cherries, salty, creamy feta, and hearty kale. Gangs all here.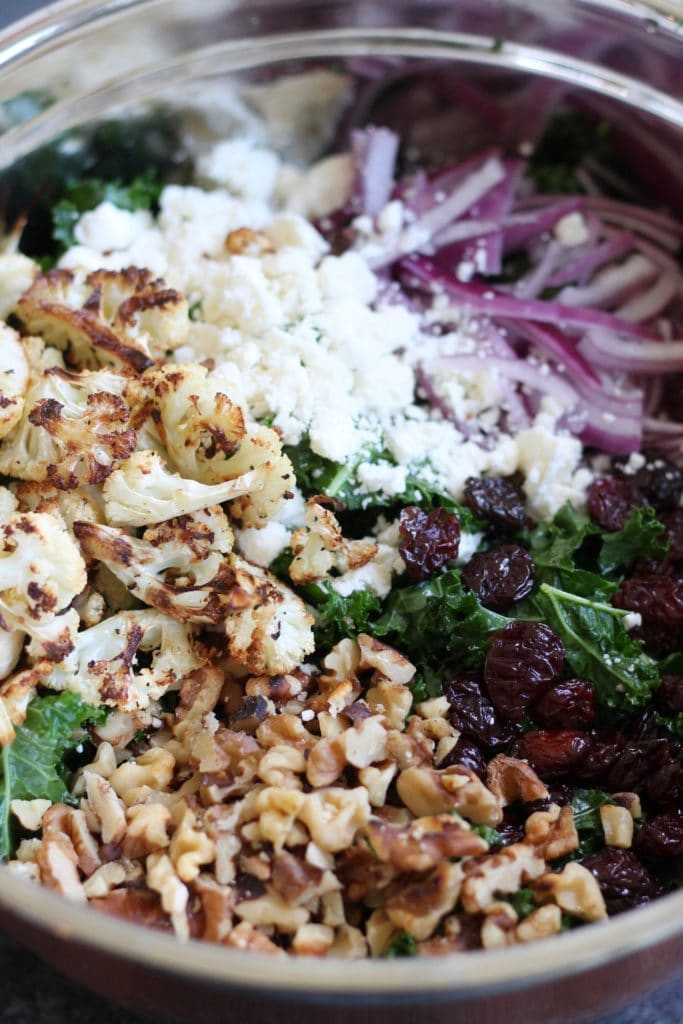 This is also something that can be made ahead of time, because it's so hearty. Or, you can prepare all the ingredients, store them separately, and toss when ready. It's very forgiving. You really can't mess this one up.


This is one of those hearty, kinda wintery salads, but fresh too. Salad comfort food, if you will.
I'm not a big soup/stew person, so this is my idea of wintery comfort food. But still fresh! Perfect for this crazy weather we've been having on the east coast. 70 degrees one day, 20 the next. Not exaggerating.


This is also super customizable. Feel free to add whatever dried fruit, cheeses, and nuts you like. It's all about the crunch! This would be delish with dried cranberries and pumpkin seeds, I just happen to LOVE tart dried cherries. They're SO good!
Oh and the dressing. It's super simple but tastes amazing with this combo of ingredients. It's just lemon juice, dijon, honey, garlic, salt, pepper, and olive oil. It's a dressing I make almost weekly, and pairs beautifully with pretty much everything.


So many colors and textures. My favorite way to eat!

Roasted Cauliflower Kale Salad with Dried Cherries, Walnuts, and Feta
Author:
Molly (Spices in My DNA)
Prep time:
Cook time:
Total time:
Ingredients
1 head cauliflower, cut into small florets
1 head kale, destemmed and chopped
juice of 1 lemon
1 teaspoon dijon mustard
1 teaspoon honey
1 clove garlic, minced
3 tablespoons olive oil, divided
salt and pepper
¼ of a small red onion, thinly sliced
⅓ cup dried tart cherries
½ cup walnuts, toasted and chopped (I toast mine in a dry skillet for several minutes on medium/low heat)
⅓ cup crumbled feta
Instructions
Preheat the oven to 425℉. Line a baking sheet with parchment and place cauliflower on the baking sheet. Drizzle with one tablespoon of the olive oil and season with a few pinches of salt and pepper. Roast for 30-35 minutes until deeply golden and caramelized.
While the cauliflower is roasting, make the dressing. Combine lemon juice, dijon, honey, garlic, and a couple pinches of salt and pepper in a small bowl and whisk to combine. Add the remaining 2 tablespoons of olive oil and whisk again to combine.
Add kale to a large mixing bowl and add half of the dressing. Massage the dressing into the kale for a minute or so until the kale reduces in volume and gets softer.
To assemble the salad, add the cauliflower, red onion, cherries, walnuts and feta to the kale and toss. Add the remaining dressing and toss again. Season with salt and pepper to taste and serve!
inspired by a recipe in the O Magazine.