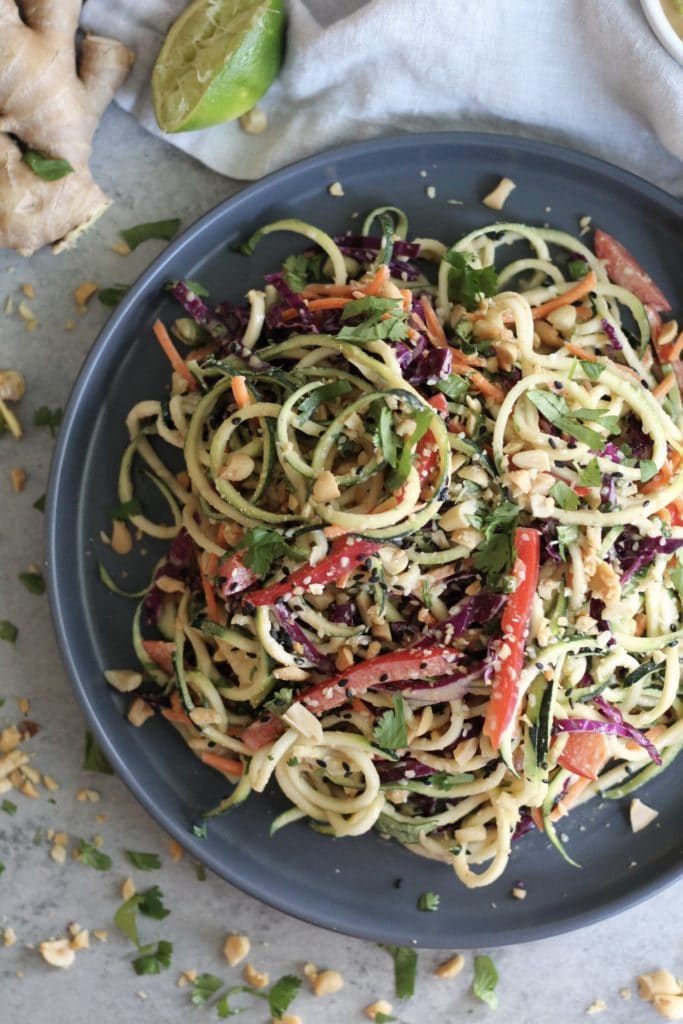 I've said it before and I'll say it again: I want to put peanut sauce on everything I consume. Whyyyy is it so good?! Probably because it contains one of my favorite foods in the entire world: peanut butter. And another: garlic. I'm also slightly obsessed with anything with that toasted sesame flavor. So it's no surprise I love these noodles more than anything!

This salad is so fresh and healthy and filled to the brim with crunchy, colorful veggies. My kind of meal! I love getting tonnnns of veggies in at every chance I get. Tons of texture and nutrients = happy Molly.
Another thing I love about this is that it's incredibly simple to make and keeps really well in the fridge for a couple of days. The noodles marinate more and more in the delicious peanut sauce and it just gets more flavorful.
I think I even ate this four or five days after it was made and still enjoyed it. For you guys, I'd say two for optimal freshness. The zoodles tend to get a little watery the longer they sit in the fridge.
We've got zucchini noodles (which I actually love raw..maybe even more than cooked), red bell pepper, shredded carrots, red cabbage, and cilantro.
The peanut sauce is a super simple mixture of peanut butter, rice wine vinegar, lime juice, sesame oil, soy sauce, garlic, freshly grated ginger, honey, and a little water. This is SO delicious as a dressing to any salad, a dip for veggies, a dip for chicken, or to consume with a spoon. Not kidding.
The peanut sauce is another thing that keeps great in the fridge for up to a week. Just look at the creaminess!!
This is a perfect, healthy dinner for summer because it's filled with tons of veggies, it's super simple to put together, it's SO packed with flavor, and it's eaten cold for those hot days!
I topped the salad with extra cilantro because I love it, sesame seeds, and chopped peanuts for extra crunch!
This recipe is such a regular in my house. Let me know if you guys love it as much as I do! <3

Zucchini Noodle Salad with Sesame Peanut Sauce
Author:
Molly (Spices in My DNA)
Ingredients
2 medium zucchinis, spiralized
1 red bell pepper, thinly sliced
1 cup shredded carrots
1 cup shredded red cabbage
½ cup chopped cilantro + extra for topping
½ cup creamy peanut butter (the natural, drippy kind)
1 tablespoon rice wine vinegar
juice of 1 lime
1 tablespoon sesame oil
2 tablespoons soy sauce
1 clove garlic, minced
2 teaspoons freshly grated ginger
2 teaspoons honey
⅓ cup hot water
2 tablespoons sesame seeds + extra for topping
¼ cup chopped peanuts + extra for topping
Instructions
Place spiralized zucchini, red bell pepper, carrots, cabbage, and cilantro in a large bowl. Toss to combine.
In a medium bowl, combine the peanut butter, rice wine vinegar, lime juice, sesame oil, soy sauce, garlic, ginger, honey, and water. Whisk to combine until smooth and creamy.
Add dressing to the vegetables and toss until everything is coated. Add the sesame seeds and peanuts and toss again to combine.
Garnish with extra cilantro, sesame seeds, and chopped peanuts. Enjoy!