I have the BEST Thanksgiving leftovers idea for you guys. I'm definitely not against heating up a regular Thanksgiving dinner today and through the weekend, but I usually crave something a little different and fun..because I always need variety! This turkey and dumplings is absolutely to dieee for.


I really can't think of a cozier, more nostalgic meal. My mom used to make us beef and dumplings growing up, and she used bisquick mix for the dumplings! It was the most delicious pot of comfort and my brother and I always devoured it. I didn't use bisquick here, but the dumplings are SO easy.
While this version doesn't use the stew beef my mom used to use, you could certainly use whatever leftover meat you have on hand, if you aren't making this around Thanksgiving time!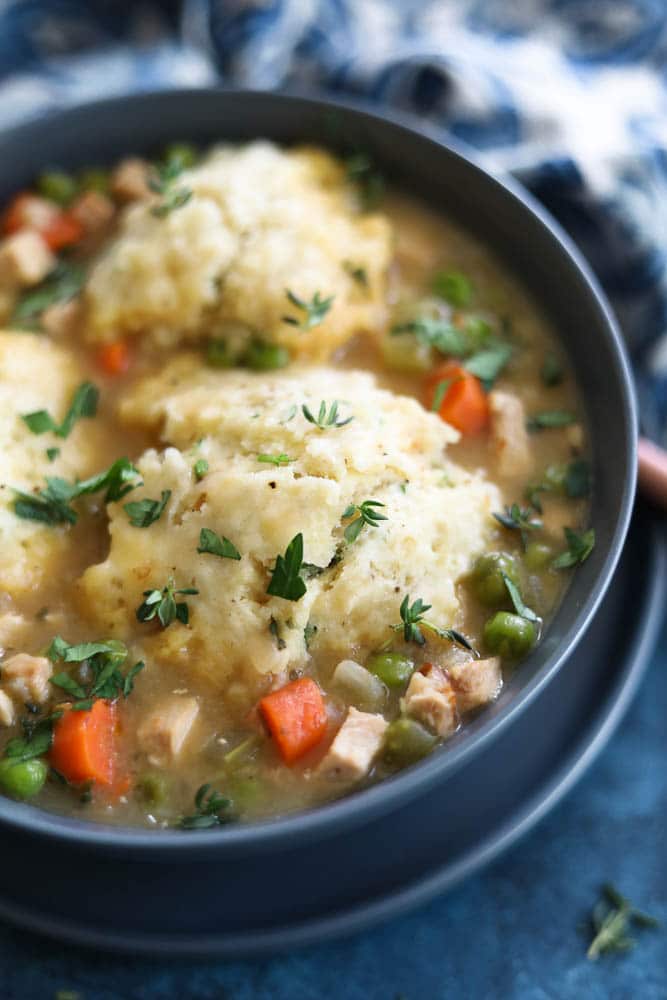 I used buttermilk in these dumplings and they're SO fluffy. I could eat them in mass amounts and never get sick of them.
After making this recipe, I had it for dinner for several days straight and it was JUST as good reheated. Which is saying a lot for me!
This comes together in NO time. Thirty minutes or so if you know your way around the kitchen. Even if you don't, it's crazy easy, especially since you're just using leftover turkey!
You can use whatever veggies you like, but the peas, carrots, onions, and celery make this taste like a turkey pot pie. I think I even like it better than turkey pot pie. I'd choose fluffy biscuits over crust any day!
The best use of leftovers ever!

Turkey and Dumplings
Author:
Molly (Spices in My DNA)
Recipe type:
Turkey, Poultry, Main, Comfort Food
Prep time:
Cook time:
Total time:
Ingredients
For the DUMPLINGS:
1¾ cups all purpose flour
1 tablespoon baking powder
¼ teaspoon baking soda
¼ teaspoon salt
¼ teaspoon pepper
1 tablespoon chopped parsley
½ teaspoon chopped fresh thyme
6 tablespoons butter, melted
¾ cup buttermilk
For the TURKEY AND VEGGIES:
2 tablespoons butter
1 medium sweet onion, chopped
2 carrots, peeled and diced
2 stalks of celery, diced
½ teaspoon fresh thyme
¼ teaspoon salt
¼ teaspoon pepper
1 quart (4 cups) turkey broth (can also use chicken broth)
1 bay leaf
3½ cups cubed leftover turkey (you could use a rotisserie chicken here too!)
1¼ cups peas
chopped parsley for garnish
fresh thyme for garnish
Instructions
Make the dumplings. In a medium bowl, whisk together the all purpose flour, baking powder, baking soda, salt, pepper, parsley, and thyme. Add the melted butter and buttermilk and stir until just combined. Set aside.
Heat a large pot or dutch oven over medium-high heat and add the 2 tablespoons of butter. Once melted, add the onion, carrots, celery, thyme, salt, and pepper, and sauté for 5-6 minutes, or until softened. Add the turkey stock, bay leaf, turkey, and peas and stir to combine.
Drop the dumpling batter in large spoonfuls into the pot (you should get about 7-8). Reduce heat to medium, cover, and simmer for 10 minutes. Remove lid, and cook for 5 minutes more or until dumplings are cooked through.
Serve with extra chopped parsley and thyme!