I have a super easy and healthy weeknight meal for you guys! This one is SO delicious and full of tons of veggies and protein. It's fantastic for meal prep, and keeps super well in the fridge. Plus, I can't get enough Mexican food. We all know that by now.



This dish almost resembles chili, but super thick, and with a melty, cheesy layer of monterey jack on top. I'm not complaining.


It starts with sautéed garlic, onions, and peppers, and then lean ground turkey, sweet potato, black beans, corn, and a enchilada sauce mixture get added into the skillet. I love how many veggies, protein, and good carbs are in this. It's truly a one-pot, complete meal. But I'd totally recommend adding avocado, and maybe a little Greek yogurt or sour cream on top. Do it up!

This also feeds a crowd. Well maybe not a crowd, but a good six people I'd say. It's super filling because of all the beans, sweet potato, and protein from the turkey. If you're only making it for yourself or a few people, definitely still make the whole batch.
You won't be sorry. Plus, it freezes really well too!


I love meals that are made in one pot because that means less dishes for me. I know we can all relate.
You could totally use ground chicken, ground beef, or even extra beans here if you're vegetarian. Super customizable and family friendly too!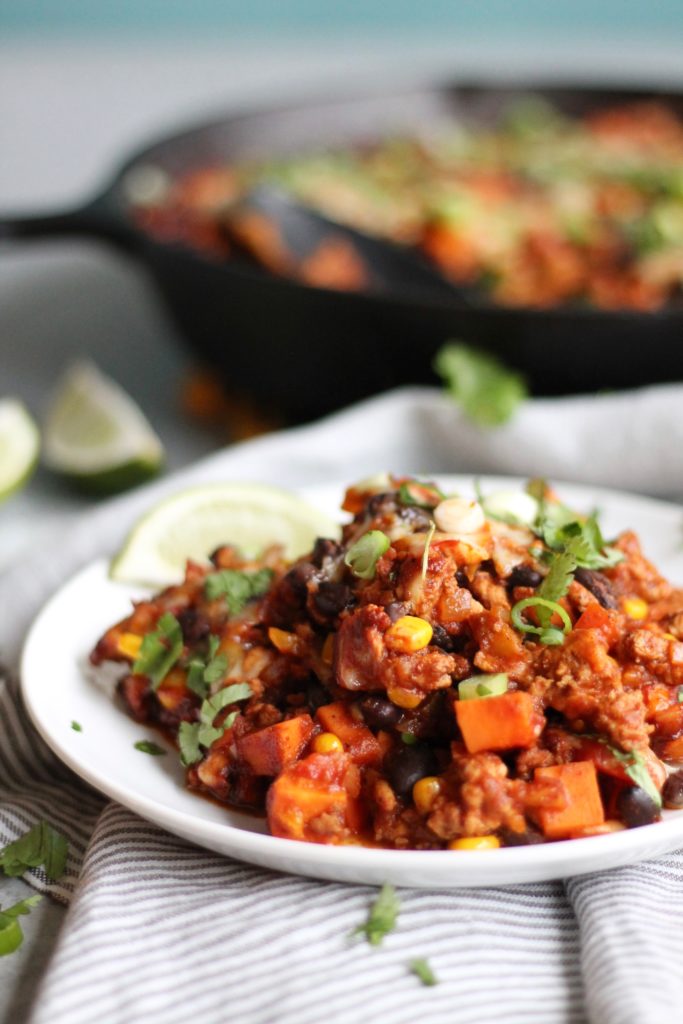 Cheese on top not optional.

Turkey Black Bean Sweet Potato Enchilada Skillet
Author:
Molly (Spices in My DNA)
Prep time:
Cook time:
Total time:
Ingredients
1 medium yellow onion, chopped
1 clove garlic, minced
1 red bell pepper, chopped
1 yellow bell pepper, chopped
1 tablespoon avocado oil or olive oil
1.3 pounds lean ground turkey
1 medium sweet potato, peeled and diced into ½'' chunks
1 (15 ounce) can tomato sauce
2 tablespoons tomato paste
1½ tablespoons chili powder
2 teaspoons cumin
½ teaspoon smoked paprika
½ teaspoon onion powder
½ teaspoon garlic powder
¼ teaspoon salt
¼ teaspoon pepper
½ cup low sodium chicken broth
1 cup frozen corn
1 (15 ounce) can black beans
½ cup + ⅔ cup freshly grated monterey jack cheese
¼ cup freshly grated cheddar cheese
salt and pepper
¼ cup chopped cilantro + extra for serving
2 scallions, thinly sliced + extra for serving
Greek yogurt or sour cream for serving
lime wedges for serving
Instructions
Preheat oven to 350℉.
Heat a large cast iron or oven safe skillet to medium-high heat. Add avocado oil or olive oil. Add onion, garlic, and bell pepper and sauté for 5 minutes or until onions are translucent and peppers are tender. Season with a pinch of salt and pepper.
Add the turkey, chili powder, cumin, smoked paprika, onion powder, garlic powder, salt, and pepper, and cook for another 5-7 minutes or until turkey is cooked through.
Add the sweet potato, tomato sauce, tomato paste, and chicken broth and cook for another 5 minutes, stirring occasionally.
Remove from heat and add corn, black beans, ½ cup of the monterey jack, and the cheddar. Stir to combine.
Top with the remaining ⅔ cup monterey jack. Bake for 25-30 minutes, or until cheese is golden and bubbly and sweet potato is cooked through.
Let sit for a few minutes to cool, and top with cilantro and scallions.
Serve with Greek yogurt or sour cream, extra cilantro and scallions, and lime wedges!