Would it be too bold of a statement to say that these are the best margaritas I've EVER had? Because it's true. There's no other way to say it. And I've had a lot of margaritas. OMG you guys. These are AMAZING.



I'm obsessing over all winter citrus lately. Blood oranges are so gorgeous and versatile! I love using their juice in salad dressing, segmented and tossed in salads, in yogurt bowls, smoothies, you name it.
The cara cara oranges are amazing too. They're slightly pink and so so pretty. I used grapefruit in these as well!
And last but certainly not least, tangelos. They're like a more potent orange crossed with a tangerine and a grapefruit. So fragrant and beautiful. I made a salad with them a couple years ago and it's still one of my faves. Sometimes they're labeled as minneolas if you're having trouble finding them.


I'm not a big drinker, but I do love my Spanish reds, a good IPA, and margaritas. If I'm going to drink at all, you can bet it'll be one of those three. I kind of just want these for the rest of my life though.


And the vanilla bean SALTY SUGAR. Oh my goodness. Vanilla bean and citrus together is such an amazing combination. The sugar mixed with the salt cuts the citrus and adds an amazing flavor dimension to these cocktails.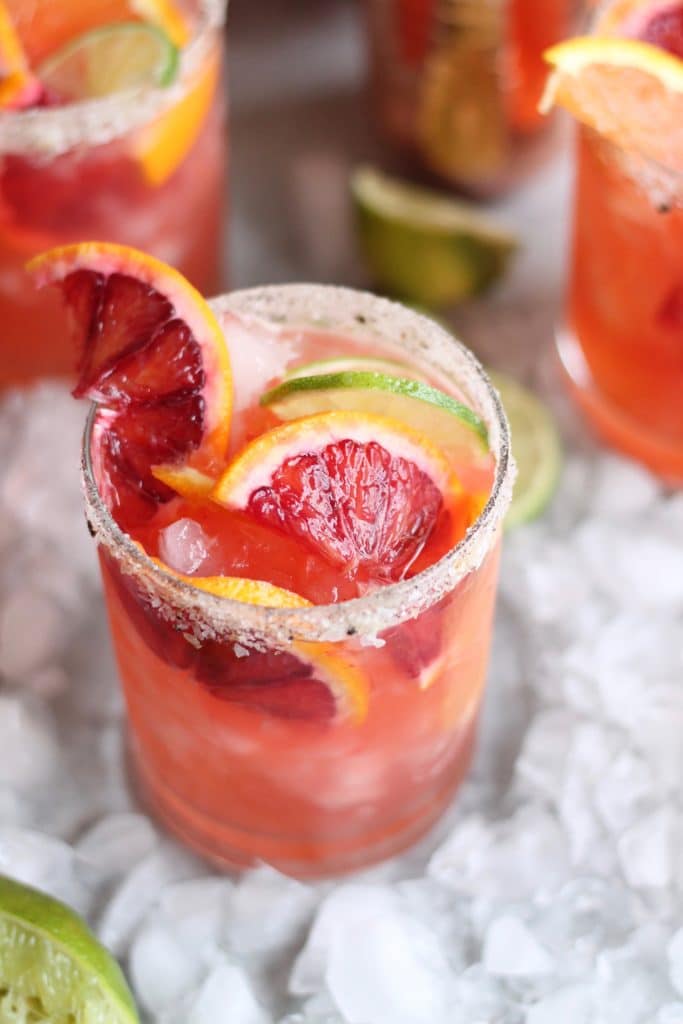 These would be amazing to make pitcher-style for a party! With tacos of course. And guac. For the Super Bowl this weekend!

Winter Citrus Margaritas with Vanilla Bean Salty Sugar
Author:
Molly (Spices in My DNA)
Recipe type:
Beverage, Cocktail, Booze
Serves:
1 cocktail, is easily multiplied
Ingredients
For the SIMPLE SYRUP:
1 cup water
1 cup sugar
For the CITRUS JUICE:
juice of 1 blood orange
juice of 1 tangelo/minneola (if you can't find these, regular oranges, tangerines, or cara cara oranges work!)
juice of ½ a grapefruit
For the VANILLA BEAN SALTY SUGAR:
2 tablespoons coarse margarita salt
1 tablespoon sugar
seeds from 1 vanilla bean
For the MARGARITA:
1 ounce citrus juice
1 ounce lime juice
1 ounce simple syrup
1 ounce gold tequila
½ ounce Grand Marnier
blood orange slices for garnish
tangelo slices for garnish
cara cara orange slices for garnish
lime slices for garnish
Instructions
Make the simple syrup. Bring water to a boil in a small saucepan. Add sugar and stir to combine until dissolved. Remove from heat and let cool completely. I like to make it the night before and let chill in the fridge overnight.
Make the vanilla bean salty sugar. Add salt and sugar to a plate and add vanilla bean seeds. Massage with your fingers and incorporate the seeds into the salt and sugar until combined. Set aside.
Make the citrus juice. Combine juice of one blood orange, juice of one tangelo, and half a grapefruit in a bowl. Stir to combine.
Moisten the edge of your glass with a lime wedge. Rim in the salty sugar. Fill the glass with ice. To make the cocktail, add ice to a cocktail shaker. To the shaker, add an ounce of the citrus juice, an ounce of lime juice, an ounce of the simple syrup, the gold tequila, and grand marnier. Shake for 30 seconds and pour into your glass. Garnish with all the citrus slices!
A serious glass of sunshine in this winter weather!